I don't know about you guys, but Advent really slipped up on me this year. I blame Thanksgiving, which, trust me, is my favorite holiday; however, it was so late this year. The 28th of November? Come on! December 1st hit, and I was still eating leftover pie. I had very little time to make Advent a momentous occasion.
Plus, I lost the wrapping paper. Yes, I realize there are retail stores that keep wrapping paper in stock, even gas stations have wrapping paper available this time of year. Yet, I KNEW we had wrapping paper at home. In fact, we took the wrapping paper with us to family Thanksgiving, and I specifically remembered watching my three-year-old take the wrapping paper from the Jeep into the house when we got home. I saw her! I know it.
My husband and I have a wrapping paper tradition. We buy a huge roll of it at Sam's for less than $10, and we use the same paper for years. Years. Seriously, we've been married eleven years. We've purchased two rolls of wrapping paper. So, I didn't want to "waste" money on wrapping paper when I knew we had perfectly good wrapping paper in our house, just concealed. By a three-year-old.
So, I spent Monday cleaning the house (mainly because I was going insane – see above paragraph. Nope. Paragraphs about wrapping paper.) And I found it! In the my bedroom closet, hidden amongst my husband's dress pants.
Anyway, my point to all of this rambling is that we are a few days behind our traditional Advent activities. I love letting my kids open up something every day leading up to Christmas, but I rarely spend any money on it. I pull out all of our Christmas movies and books. I think of some fun Christmas activities (like calling the grandparents and singing "Jingle Bells"), and then I shop my library for other Christmas books. Yes. I wrap those, too. The fun is in the unwrapping, right? Anyway, by combining all of those things, my kids make special memories at little cost to me.
We are also participating in Truth in the Tinsel by Amanda White, which is a lovely little Advent devotional eBook for toddlers and pre-schoolers (my seven-year-old loves it, too.) We read a Scripture, talk about it, and make an ornament craft to go along with the story. The lovely thing about Truth in the Tinsel is that you can make it work for your family and adapt as needed.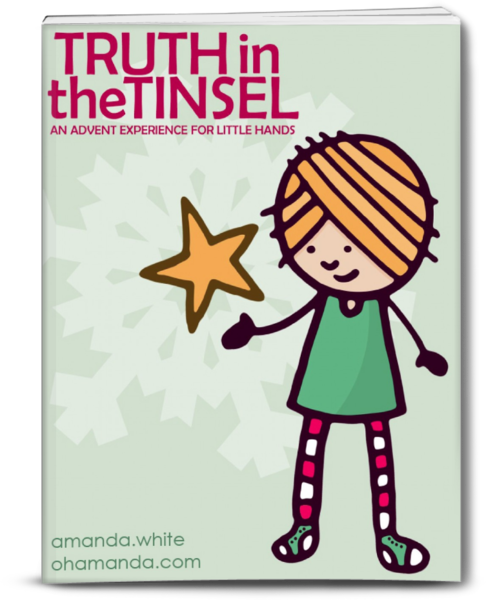 You don't have a crafty crew? No worries. Amanda provides cute coloring pages that you can use for ornaments. You only have a few days to dedicate to Advent? Well, you can just do the devotionals for the people in the Jesus Story. Or, she even has a paper chain you can make. The crafts are all very simple to follow, and you use a lot of household items or normal crafty kinds of items that pre-schoolers love, like pipe cleaners and fuzzy balls. Click here to visit Truth in the Tinsel.
My friend Jessica at The Quirky Bookworm just wrote a post about rushing to Advent, too. She has a better excuse with a sweet newborn baby, but I think we are all feeling a little rushed this year. Anyway, check out her post, and you can get lots of book ideas as always. I made a list of all of my books last year (here).
We've added some new books this year. Pete the Cat Saves Christmas is the unanimous favorite. You can also go to the Harper Collins Children's Website and listen to all of Pete the Cat's songs. Super fun!
I hope you are all enjoying the Christmas season. It really is the most wonderful time of the year!